Archive
Displaying 1 - 6 of 6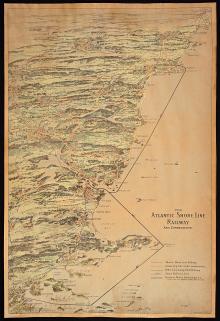 This colorful bird's eye view of the New England coast from Boston Harbor to Portland, Maine shows the various kinds of train and steamship line connections for summer tourists wishing to reach their vacation  destinations in Maine. The map key explains that the transit routes are for the Atlantic Shore Line Railway, a Maine electric street car of sorts, the steam railway line of the B&M R.R. and the Southern Maine Steamship Line with connections to the Atlantic Shore Line Railway.
      The landscape and topography from Boston Harbor and north to other towns in Massachusetts and in Portsmouth, New Hampshire to Maine are shown in a pictorial style characteristic of bird's eye views that invite the viewer into the scene. We see some of the city buildings in Boston and the town centers of Newburyport and Amesbury, among others. Ogunquit is highlighted with its long sandy beach north to Wells, Maine. Small ships are drawn along the steamship route from Boston Harbor to Portsmouth, New Hampshire and up to Cape Porpoise in Maine.  Other connecting electric lines from Hampton Beach in New Hampshire make a loop to Exeter, New Hampshire. A connecting electric line runs from Saco to Portland.
    This piece is not dated. It can be dated within the range of operation of the Shore Line Route that was turn of the 19th century into the early 20th century. I have found no published examples of this bird's eye view of the Shore Line Route.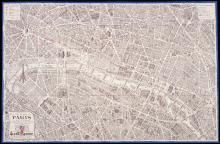 This is a highly decorative bird's eye view of central Paris ("vue a vol d'oiseau"), printed in French, showing all of the city's important historic buildings, such as the Palais du Justice, the Tour Eiffel, the Place Vendome, Palais Royale, Arc De Triomphe De L'Etoile as well as Paris gardens and parks such as Jardin Des Tuileries. The major train stations are shown. The Seine is filled with boats and ships under sail. The Ile De La Cite is drawn with the same level of detail.  Paris neighborhoods are shown on the map with fine architectural detail and invite the viewer in for a stroll. This colorful map was produced as an advertising piece and tourist map by Grand Marnier Liquor whose name appears in the "cartouche", typically a map element reserved for a royal sponsor. The map key identifies both points of historic interest to tourists and modern venues such as hotels, discoteques and cafes. The overall color scheme of this map is red, white and blue as befits a French decorative print. Red dots show places of special interest. The map has a deep blue border. The lithograph is drawn in black on a white ground.
     Stylistically this map references earlier monumental birds eye view maps of Paris most notably the Turgot map of 1739 that was drawn on twenty individual sheets that when assembled comprise a map of eight by ten feet that presented every building in accurate architectural detail, the parks and all other features of Paris. A later version  of the Turgot map was issued in 1900.  Here in one colorful sheet is Grand Marnier's plan toasting the city of Paris by capturing its distinctive architectural detail, Parisian neighborhoods and active commerce on the Seine.