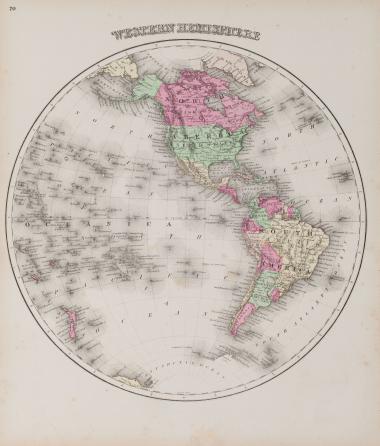 My first antique map purchase was unexpected. It was the summer of 2012. I was at an outdoor flea market and out of the corner of my eye I saw a stack of color prints sitting on a table across the field, or so I thought. Those color prints turned out to be 1871 hand colored, town maps of Worcester County, Massachusetts. The maps showed many of the towns that I had for years been randomly exploring by car, on foot and on long hikes. I bought the maps, took them home and studied each map, its palette of hand painted colors, the minute hand engraved names on each house, barn, field and factory, the hand drawn network of rail lines making the logical connections between town center, farms and distant locations. For the first time, I was able to see each town as a coherent place. And I was able to see the entire region at a time of economic and industrial strength. Each map also showed the numerous natural features and landmarks that make this region unique. Not only did finding these maps set me on a path of learning about antique maps, but it also revealed to me what was hiding in plain sight about this beautiful part of Massachusetts.
Therefore, from my own first experience of finding personal meaning in an antique map, I understand that what often draws us to a map is personal. I hope that when you look through the Original Antique Maps collection you will find maps and prints that have personal meaning to you as well.
My life experience, academic studies and prior professional life have roved among several disciplines: studio art, art history, architecture, philosophy, classics, aesthetic theory and criticism, law and land use planning. I have a deep love of nature and of the other living beings with whom we share this planet.
I understand antique maps as art, as history and as ongoing discourse. They are records of discovery, politics, science and industry. As importantly, maps are stories, either literal or allegorical. Finally, antique maps, and modern maps as well are expressions of the author's imagination about the past, the present and the future.
____________________________________________________________________________________________________________________________
Formal Education:
Harvard College, B.A. cum laude, Special Concentration in Aesthetic Philosophy
M.I.T., Master of City Planning
Northeastern University Law School, J.D.
- private law practice 1984-2012, art law, nonprofit organizations, small business matters, land use and real estate law
- graduate level instructor, politics and law of the real estate development process
Education in the Arts:
studio classes from childhood to adulthood; sculptor in clay and bronze