The Back Room
The Back Room presents both Americana and international materials. This inventory is a selection of rare, scarce  and one of a kind materials published in the 18th, 19th and occasionally the 20th century.  The Back Room also includes 19th century American wall maps, an area of special interest.  The Back Room inventory will be updated frequently.
Displaying 41 - 41 of 41
Pages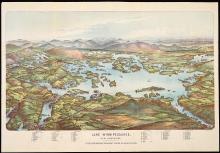 This exceptionally colorful bird's eye view of Lake Winnipesaukee, New Hampshire was published in 1903 for travelers on the Boston and Maine Railroad who were headed to Lake Winnipesaukee for vacation. Numbers on the map identify specific locations of interest to a traveler and correspond to a key requiring three columns of place names that identifies the area's numerous mountains and islands. The map is double sided. On the reverse are photographs of local sites of interests for the tourist as well as 23 small pages of text.
Pages